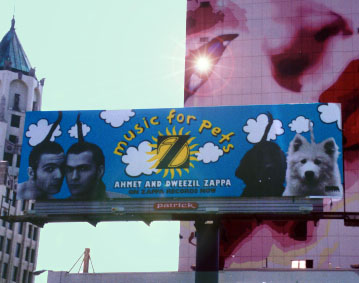 March 28, 1999
Dweezil & Ahmet on Conan O'brien and Happy Hour
Dweezil and Ahmet will be appearing on Conan O'brien's show on march 31. Az/Dz's show "Happy Hour" will be starting on April 3 (Saturday) at 8:00 pm central on USA network and will be on every Saturday thereafter!

---
March 23, 1999
Dweezil and Ahmet on a Yahoo! CHAT... USA Network "Happy Hour" Hosts Dweezil and Ahmet Zappa
Get ready for Happy Hour! Brothers Dweezil and Ahmet Zappa are the outrageous hosts of the wildest, happiest hour on television! Happy Hour airs on Saturdays starting in April on USA Network. This hour-long variety show is packed with non-stop entertainment, games and music. Veteran Bassist Leland Sklar leads the house band while ten hot dancers known as The Bombshells bring extra sizzle to the show each week. Join TV Guide Online as we chat with Dweezil and Ahmet live in our studio using Earthcam webcams to bring you video of the chat on Tuesday, March 30, 7pET/4pPT. Read About it, Tune In


---
January, 1999
Dweezil and Blues NAMM '99 show cancelled
Dweezil Zappa and Blues Saraceno wont be playing at NAMM this year.


---
December 30, 1998
Dweezil and Blues Sheduled for NAMM '99
Dweezil Zappa and Blues Saraceno are supposed to be playing on the next NAMM, as soon as I get the confirmation I will post some more info, stay tuned.


---
July 1, 1998

Ahmet Finished Solo Album
Ahmet's solo album is said to be finished and in production. This means that the release of it may not be that far away.


Dweezil Working on Frank's Stuff
Lately Dweezil has been doing some work on FZ stuff in the studio. At the moment he is working on a video of Frank's Roxy show now.

---
June 30, 1998

Diva Zappa cast in TV movie
Tuesday June 30 7:48 AM EDT HOLLYWOOD (Variety) - Diva Zappa, the youngest daughter of rock legend Frank Zappa, has been cast in the television movie "David & Lisa" for ABC. The film, which stars Sidney Poitier, Lucas Haas, Brittany Murphy and Debi Mazar, begins shooting this month in Los Angeles.  Dweezil recently completed "Frost" for Warner Bros.  
Moon Zappa  stand-up comedy dates
  9 pm, June 30th, Moondog Café, 7160 Melrose Avenue, L.A. August 19th, hostessing "Moonshine" at the Improv.
---
April 30, 1998

Dweezil in Michael Keaton/ Kelly Preston Film
LOS ANGELES (ENTERTAINMENT WIRE, April 8 7:01 AM ET) - Dweezil Zappa has been tapped for a cameo role in the upcoming Michael Keaton/Kelly Preston-starrer "Frost," which is currently shooting in Los Angeles and parts of Nevada. Zappa plays a "pseudo-smarmy A&R guy" in the Warner Bros. comedy. 


 
Performing at Select Dates With Lisa Loeb
The musician/actor also has been sitting in on guitar at selected shows (both as part of the band and for acoustic duo performances) with Geffen recording artist Lisa Loeb on behalf of her new album "Firecracker." Upon completion of the U.S. leg of this promotional tour, Zappa will join Loeb in mid-May for a series of promo dates in Europe.   


---
April 28, 1998


Moon Zappa Lands Sitcom Deal
HOLLYWOOD (Variety, Monday October 13 8:35 AM EDT ) - Moon Zappa is developing a sitcom for fall 1998 with Universal TV and Fox Broadcasting Co. Zappa, the 30-year-old daughter of late rock iconoclast Frank Zappa, first became famous in 1982 when she contributed vocals to her father's satirical hit song "Valley Girl." She also starred in the 1989-90 series "Normal Life" for CBS, and she stars in the movie "Love Always," which opened Friday. Her other film credits include "The Girl Gets Moe," "Anarchy TV," "Spirit of '76" and "National Lampoon's European Vacation."  More recently, she's been trying her hand at stand-up comedy, which is what got the attention of Fox and Universal [Reuters/Variety].
---
April 20, 1998

TC Electronic Ships G-Force Preset Card
The new artist preset card for TC Electronic's G-Force guitar effects processor is now shipping. It includes 245 presets produced by guitarists such as Steve Vai, Eric Johnson, Dweezil Zappa, Frank Gambale, and more. The latest software for the G-Force is included with the card, along with a manual.